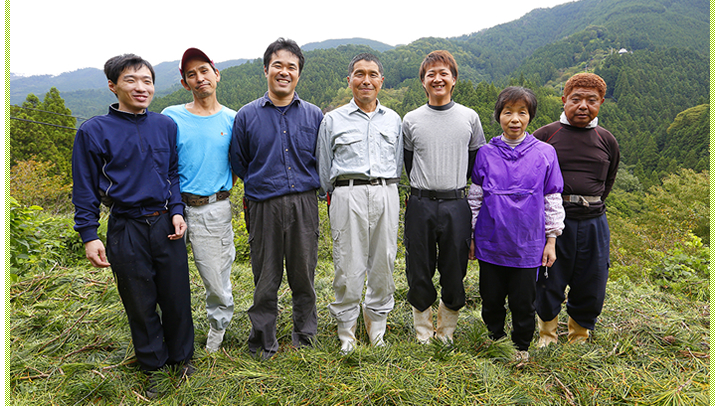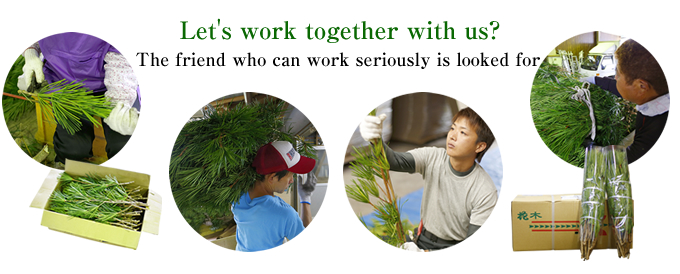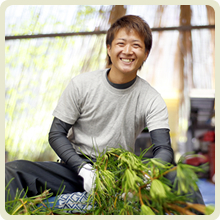 I was charmed by work of the agriculture which feels the life of the plant which is not man in nature when agriculture was touched for the first time.

Also after finding a job at Horiengei, work in the environment of being full of nature can be done.
Moreover, I get it to show work gently to work together with the method of a senior, or get it showing life.

Although I am also an inexperienced person, those who are more interested in agriculture need to do work about flowering trees and shrubs by all means.
It is a big welcome.
I am looking forward to being able to work with you.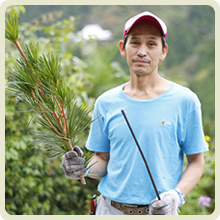 I work to Horiengei and will pass for a while with one year.
My work is mainly engaged in production and shipment of an umbrella pine.
When harvesting especially an umbrella pine, the Nature of "the holy place in Kii Mountains and worship way" which are registered also into world heritage can be felt by the body and the heart.
Since nature is a partner's work, sometimes, it may become with work in severe environment, but the sense of accomplishment becomes a feeling fresh wonderful very.
Doesn't it work in this wonderful Nature with the direction and us who got interested in this work?

I am waiting from the bottom of my heart with the bright pleasant friend!

| | |
| --- | --- |
| Office hours | 5:00〜17:00(8 hours per day. A season and work content determine.) |
| A holiday and a vacation | Biweekly five-day work week Year-ends-and-New-Year-holidays vacation Summer vacation Paid holiday |
| Welfare program | Employment Workmen's accident Health insurance Welfare pension |
| Salary | 130,000円〜250,000円(age and experience, and main work content are taken into consideration) |
| Other benefits | Transportation expenses (based on an internal rule) Housing allowance |
| Place of business | Our connection centering on the Nara Nakaminami part |
| Way for subscription | Please contact our charge. |

We can use the agricultural internship (farming experience) which a national new-entrants-to-agriculture counseling center manages.
Although it seems that there are many directions which work, set to aspire after agriculture and feel a gap for imagination and an actual difference, by experiencing our agriculture by internship, the severe place of our agriculture and air in the company can be taken in, and it becomes big reference of selection of employment.
In our company, there are some employees employed through internship and we recommend you strongly to use in internship those who consider employment to our company.

Please ask to our charge for details.

The homepage of a national new-entrants-to-agriculture support center